To celebrate reaching over 300 'Likes' on the Rainbow Inspirations facebook page, as "Thank you" I am running a Christmas giveaway competition.
I will be giving away a Christmas themed, green crystal sun catcher, valued at $15. The winner will be chosen at random and will be announced in the week before Christmas.
'Like' the facebook post for the competition on the Rainbow Inspirations page to be in the running to win this fabulous prize, either as a present for yourself or for someone else this Christmas!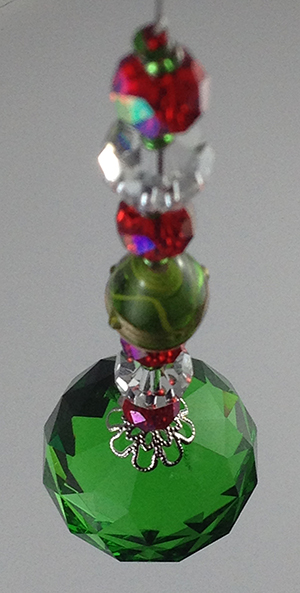 Disclaimer: This promotion is in no way endorsed, sponsored or administered by, or associated with Facebook. Rainbow Inspirations and all participants of the giveaway hereby release Facebook of any liability. Information collected is not collected by Facebook. Information collected by Rainbow Inspirations is used with strict confidentiality, is not shared with third parties and is destroyed within a couple of days from the end of the giveaway. The winner is chosen at random within 48 hours of the giveaway. All postage costs are covered by Rainbow Inspirations, no matter where the winner resides. There are no age/gender or residency restrictions for entry on my end. The participants must comply with their National and state laws and regulations to the best of their knowledge. Sharing this post on one's timeline, or on one's friend's time line, does not provide additional entries and likewise isn't a prerequisite of entry for the giveaway. (The same goes for tagging yourself or your friends in the giveaway post).